Our Modern Facility
The Askaneli production process is state-of-the-art, with strict quality control measures in place at every stage – from the handling of the grapes to the storage of the finished products. To ensure the safety of our offerings, the Askaneli team has implemented a food safety management system in accordance with the ISO 22000 international standard.
Our modern facility boasts an impressive tank farm, complete with temperature-controlled, corrosion-resistant tanks that currently hold over 8 million liters of wine materials. In the coming year, we plan to expand this capacity to a staggering 11.5 million liters. In addition to these storage tanks, our winery is equipped with oak barrels from France and America, where cognacs and wines can mature in a volume of over 200 tons.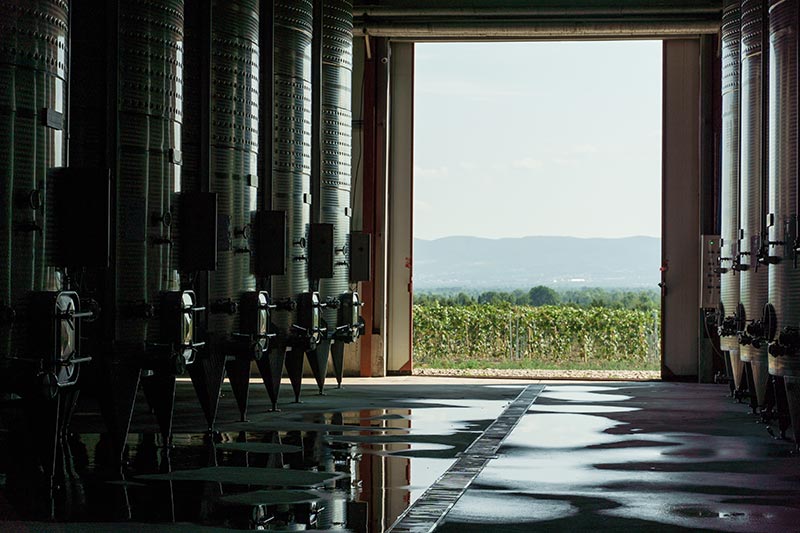 Top Level Production
To produce our top-quality products, Askaneli utilizes the most advanced equipment from European manufacturers, such as Filling lines from AVE Technologies and Fimer Spa, presses from Della Toffola, packaging equipment from Robino & Galandrino and Cavagnino & Gatti, and refrigeration equipment from Padovani SRL.
At our primary plant in Kvareli, the team uses the latest Italian equipment – including stainless steel bins, presses, tanks, and filters – to prepare the wine materials. In the near future, we have exciting plans to construct two new factories – one for Cognac and one for Sparkling wines – and install a new bottling line that will allow us to produce an additional 6,000 bottles per hour.